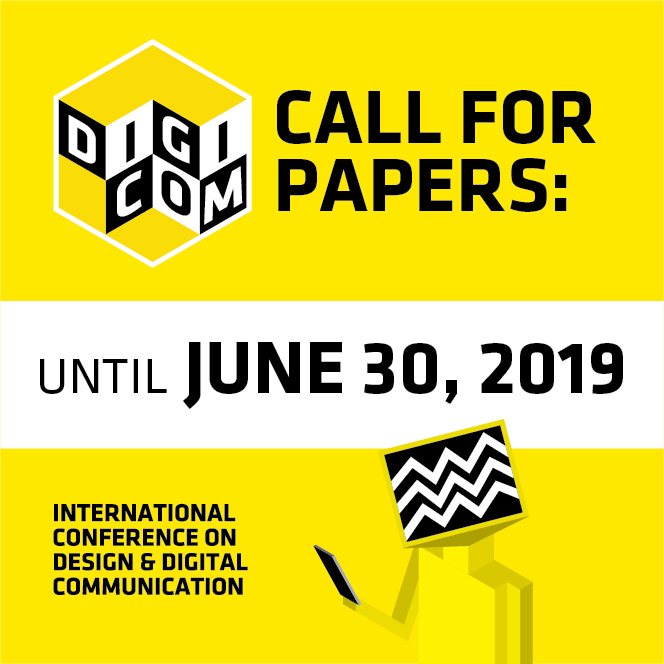 DIGICOM 2019 – 3rd International Conference on Design and Digital Communication, 15-16 November 2019, Teatro Gil Vicente, Barcelos, Portugal
CALL FOR PAPERS: until June 30, 2019 until July 15, 2019
The organizing committee of DIGICOM invites all designers, researchers, scholars and students to submit an original paper (written in English, Portuguese or Spanish) in the field of Design and Digital Communication, namely:
A) Practical applied projects: projects developed in a research, academic or commercial context, of a practical nature and with a potential social, cultural or economic relevance.
B) Case Studies: description and analysis of projects or research problems in the most different contexts.
C) Literature review: presentation of the state of the art from a certain research problem.
D) Research work: doctoral or master's research; and new approaches and research frameworks.
Submissions will be accepted in the following topics:
WEB AND MULTIMEDIA DESIGN
Web Design
Interface Design
Usability
Mobile apps
Editorial Design on digital media
Digital Typography
Multimedia Technologies
Social Media
Product Design
MOTION DESIGN

Video
Motion Graphics
Digital and Interactive Television
Infographics
Video Games
Audiovisual Graphics
GRAPHIC DESIGN AND BRANDING

Design of Visual Identity
Branding
Communication and Strategy
Communication Design
Digital Marketing
Advertisement
Social media
Market and Business
SOCIETY AND COMMUNICATION

Theory and History of the Media
Information Society
Internet and Social Networks
Health and wellbeing
Education, Literacy and Citizenship
Culture, Countercultures and subcultures
Visual, Aesthetic and Semiotic Analysis
Accepted papers will be included in the DIGICOM program for public presentation and publication in the Books of Proceedings (in electronic format, with ISBN), as long as the author is registered in the event.
The best papers will be eligible for publication in a special issue of Convergências Journal.
Digicom Keynotes:
MAFALDA URBANO
Director - Intelligence and Fan Experience,
Portuguese Football Federation
HEITOR ALVELOS
Professor of Design and New Media
ALBERT YOUNG CHOI
Professor, Hanyang University (Korea)
and President, United Designs Alliance
More keynotes announced soon!
For more information:
www.digicom.ipca.pt
Facebook
Instagram
We look forward to meet you in Barcelos!