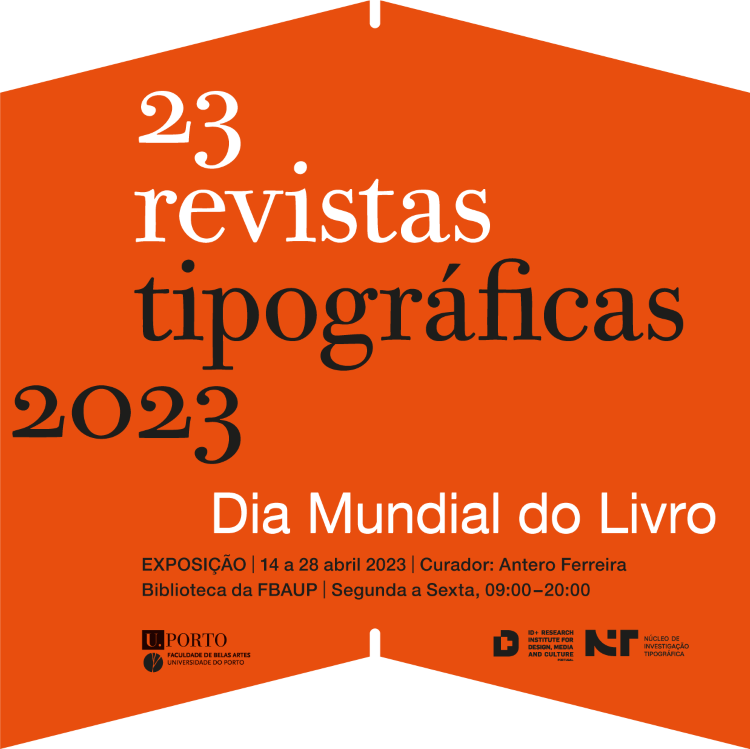 Curated by Antero Ferreira
World Book and Copyright Day (April 23rd) is marked with the presentation of 23 journals belonging to the Antero Ferreira Collection (CAF). The exhibition — 23 Typographic Journals — integrates the annual activity of the Fine Arts Faculty Library of the University of Porto.
The exhibition will be open to the public until April 28th and can be visited from Monday to Friday, from 9 am to 8 pm, in the Faculty's central building (2nd floor). Entry is free.
Acknowledgements: Isabel Barroso, Carla Sousa, Luciana Rodrigues, Jorge Serra, and Virgínia Capoto.
Journals Nº1 exposed:
Alphabet and Image (UK 1946); Baseline (UK 1979); Caractère Nöel (FR 1949); Codex (JP 2011); Druk (BE/NL 1999); É letra (PT 2010); Emigre (USA 1984); Fuse (DE 1991); Grrr (ES 1995); Lettera (CH 1954); Ligature (UK 1966); Novadam (ES 1936); O Typographo (PT 1909); Octavo (UK 1986); Signature (UK 1935); Spin (UK 2017); The Black Art (UK 1962); The Fleuron (UK 1923); Tipoitalia (IT 2008);Type (USA 1997); Typo (CZ 2003); Typographica (UK 1960); Typography Papers (UK 1996)