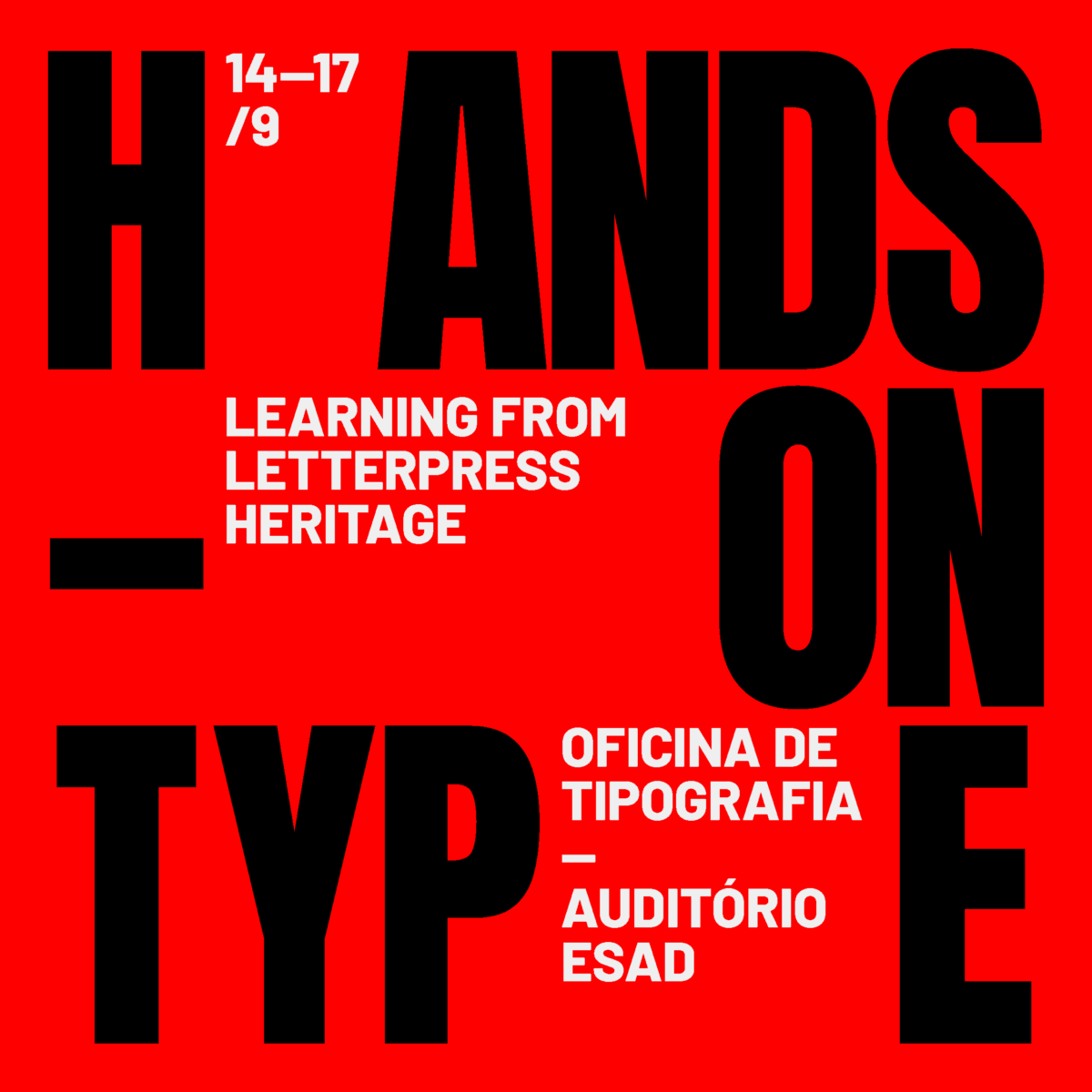 HANDS-ON TYPE, learning from letterpress heritage
workshops + conferências
14—17 SET 2021

· Alan Kitching (UK) | 
The New Typography Workshop
Um dos mais destacados designers de tipografia e impressão manual a nível mundial, reconhecido pelo uso expressivo dos caracteres em madeira e em metal na criação dos seus trabalhos gráficos. É membro honorário do The Royal College of Art, professor convidado na University of the Arts de Londres e membro da Alliance Graphique International.
· Dafi Kühne (CH) | Babyinktwice
Designer, impressor e professor, conhecido pela mistura selvagem de ferramentas analógicas e digitais para produzir cartazes para música, arte e arquitetura, teatro, cinema e também produto. É autor da publicação True Pint (2016), da série de vídeos The Dafi Kühne Printing Show (2020) e do projeto tipográfico Wood Type Now! (2009).
· Rick Griffith (US) | Matter
Designer, artista visual, impressor, professor, escritor e ativista. A sua prática criativa resulta numa uma colagem de forma, cor e gramática, com um foco autoetnográfico. Os seus trabalhos podem ser encontrados em todo o mundo, integrando museus e coleções nos Estados Unidos.
. . . . .
— WORKSHOPS | 15—16 SET
14 SET | Alan Kitching (UK)
15 SET | Dafi Kühne (CH)
16 SET Rick Griffith (US)
ESAD/ Oficina de Tipografia
[09:30–17:30]
— CONFERÊNCIAS | 17 SET
11:00 | Alan Kitching (UK)
14:30 | Dafi Kühne (CH)
16:00 | Rick Griffith (US)
ESAD/ Auditório
[10:00–18:00]
Organização:
esadidea, Investigação em Design e Arte
ESAD, Escola Superior de Artes e Design, Matosinhos
Apoio:
Direção-Geral das Artes
Parceiros:
I2ADS, ID+, Imprensa Nacional–Casa da Moeda, uniMAD + Fedrigoni, Grafopel, Maiadouro, Tecnimprensa, Viarco, Canon